---
This is an archive edition.
Go to the current blog.
3/31/15
I realize more and more that when I start off a sentence by saying, "Is it just me, or - " ... it's just me.
_____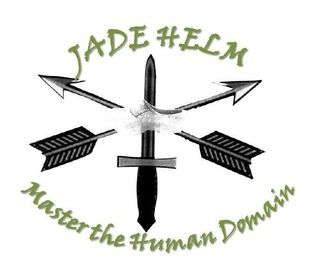 Critics fear military training exercise Operation Jade Helm could be a precursor to martial law.
_____
Economic inequality: It's far worse than you think. "Oh, people don't even know. If poor people knew how rich rich people are, there would be riots in the streets." - from Scientific American.
_____
If you want to make video essays, there's no better film to study than Orson Welles' 1973 masterpiece, F for Fake. What it teaches us about structure.
From the same dude: How to do visual comedy.
_____
I experience this quite often: Do you suffer from Exploding Head Syndrome? It's when you're startled awake by an abrupt, loud noise that doesn't actually exist.
_____
Inside the dirty world of quicksand fetishism.
---
3/30/15
When the sun is just right, Spokane's evil streak is revealed.
(Right next to City Hall, of course.)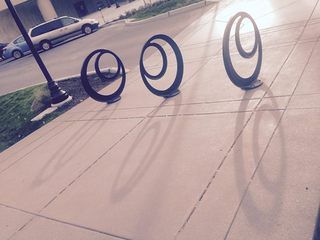 ---
3/28/15
The last audition opportunity for Z Nation is today.
_____
Bizarre. Teletubbies in black and white with Joy Division soundtrack.
_____
The 12 plot ideas that every single classic TV show did to death.
_____
Why women's shirt buttons are on the left and men's are on the right. Because of horses, babies, and Napoleon.
_____
Sex in the Middle Ages: the original "Just Say No" campaign.
_____
Life forms that people once believed were hoaxes.
_____
What's the difference between a chick pea and a garbanzo bean?
_____
Don't yawn, whistle, stand rigidly, or make exaggerated grooming gestures while you're at the airport. They. Are. Watching.
_____
Philosopher Slavoj Zizek on freedom today.

Žižek argues that our current brand of global capitalism is quickly outgrowing democracy and that a divorce between the two is inevitable.
_____
S;vpjp;z' sm sdypmodjomh ,p;rvi;r/
---
3/27/15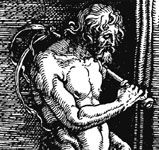 I'm whipping myself right now. And it's not as easy as it sounds.
I realized that I couldn't do both - an absurdly busy weekend at The Restaurant, as well as participate in the film contest - so I chose to keep my job and pay my rent.
So I've hammered 3/4 inch floor tacks through the end of my belt and am trying to get it swinging just right to where I can whip it in an acceptable arc and slap it into my bare back so it can tear off bits of my flesh when I yank it forward. It really does hurt.
---
3/25/15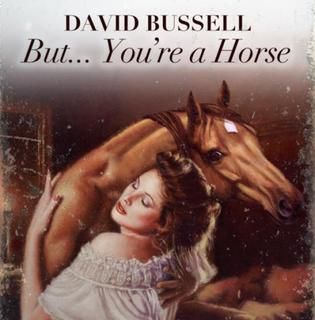 Basketcase weekend is coming up! It's the perfect storm of insane busyness at The Restaurant because of a downtown "Broadway" show, and the high school girl volleyball tourneys, coupled with the 50 Hour Film Slam. Look for my posts to be "interesting."
_____
Here's a good piece on the Zags in the Washington Post: NCAA tourney - How do you like Gonzaga now?
_____
This short film by director Harmony Korine (Gummo, Spring Breakers) examines the life of a young survivalist in the backwoods of Alabama.
_____
Here's Professor Robert Herold's critique of the appearance of Pulitzer Prize winning author Christopher Hedges at the Bing.
_____
A short film by Frater Puck about William S. Burroughs, possession, synchronicities and chaos magick.
_____
(<-- Not this) But this --> is the deliciously violent cover of Anthony Bourdain's new graphic novel.
_____
Nice resume', Jimi. Are you experienced?
_____
Lewis Carroll's Rules of Letter-Writing can make email more civil and digital communication kinder.
_____
From Smithsonian: Modern marijuana is often laced with heavy metals and fungus.
---
3/23/15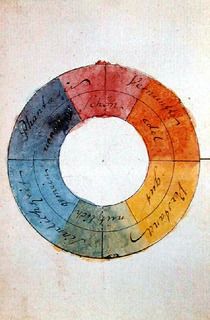 Johann Wolfgang von Goethe on the psychology of color and emotion.
_____
This unusual film short contrasts the first and last shots of 55 films.
_____
Here's a film essay on Akira Kurosawa's use of movement in his films.
Examples of tracking shots in Darren Aronofsky films that capture characters from behind - and most employed when characters are experiencing stress or disorder - forcing us to follow.
_____
Grammar stuff: Using "that" and "which" is all about restrictive and non-restrictive clauses.
_____
Check out the B GO Beyond flying car.
_____
Buy or die: Don't let the terrorists win.
---
3/21/15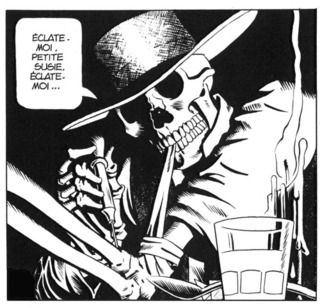 Spokane winery's website hacked with pro-Islamic State message.
_____
Washington lawmakers propose allowing pot-growing at home.
_____
Envision Spokane files a new Worker Bill of Rights initiative.
_____
The oddly reassuring quality of surrealistic art.
_____
Dope Rider, the trippy wild west comic from High Times back in the late seventies, early eighties. This brings back many very weird memories.
_____
The origin of modern terror and crumbling Western values.
_____

Why America is stuck in never-ending war. For instance, 1) The privation of war...
_____
Thoreau on what it really means to be awake.
_____
Where did kissing come from?
---
3/20/15
SPRING!
_____
We're getting ready to do the 50 Hour Film Slam next weekend. Acquaint yourself with the rules, then watch our entry - Cursed - from last year's Slam.
_____
Here's an interactive map of the modern writer's mind.
_____
The US Navy is experimenting with an electric railgun. Instead of using chemical propellants or explosives, these cannons use only electromagnetic force.
_____
Cocaine users have no idea what they're actually putting in their bodies. There's not much actual cocaine in cocaine.
_____
What happens when a meteorite hits snow?
_____
When hip was a thing: Buddy Rich.
---
3/19/15
One of the finalists for the Mars One venture claims the organization is a scam.
_____
Spokane makes another meaningless list: America's 20 most overindulgent metropolitan areas. Spookaloo comes in at number 20 with 28.9% of the people considered obese
(too high), 8.1% are heavy drinkers (too low), and 14.9% smoke daily (juuuust right).
_____
People You'd Like to Torture Department: Here's the Playboy interview with Dick Cheney.
_____
Burma's bizarre, purpose-built city of Naypyidaw boasts 20-lane highways, golf courses, fast wi-fi, reliable electricity ... and no people.
_____
Photography students were assigned to make knockoffs of famous nudes from the history of art.
_____
What children in Washington state think about pot.
_____
Eastern Washington faces a run of dust storms and wildfires in the coming months, thanks to an inescapable drought.
_____
The average winter in Spokane produces 42.4 inches of snow. This year we got 16.6.
---
3/18/15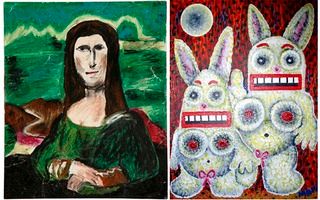 The art world's descent into irrelevance and degeneracy - a critique of "Marxist-influenced postmodernism."
_____
Who would Jesus bomb, and other imponderable questions - an op-ed in the Washington Post calls for war with Iran by people uninterested in the tedious details of who will do the fighting or whether the proposed war could be won.
_____
Food presentations from restaurant trying a little too hard to be original.
_____
Art thoughtz: How to Make an Art with Hennessy Youngman.
_____
The dangers of spiritual amateurism in America.
_____
The convicted child killer who made a career out of impersonating a dead member of Sha Na Na.
_____
An interview with Kurt Vonnegut in the Paris Review.
Interviewer: What is a twerp in the strictest sense, in the original sense?
Vonnegut: It's a person who inserts a set of false teeth between the cheeks of his ass.
---
3/17/15
A scene from the Mr. Dark Episode 2 wrap party:

_____
John Oliver on the wealth gap.
_____
Am I the only one making a connection between Vladimir Putin's lost 10 days and the massive display of force in the Russian Arctic?
_____
Spokane restaurants get national attention.
_____
A Coeur d'Alene woman is demanding $18,000 to pay for clean-up after police shot and killed a man on her porch. [She doesn't have a garden hose?]
_____
Here's a white supremacist heavy metal murderer's secret to picking up white chicks.
_____
Elise Hill spent 9 years filming her life as a prostitute.
_____
:) Marlboro Earth: New eco-friendly cigarettes kill destructive human beings over time.
---
3/14/15
Heartbeat of the City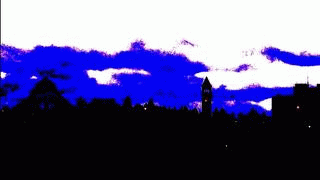 _____
Bizarre: The cover story for the April issue of The Atlantic magazine will be "Is it Time for the Jews to Leave Europe?"
_____
I've been hearing lots of good stuff about the new horror film: It Follows.
Writer/director of "It Follows" discusses the opening sequence.
Best American horror movie in years, says the Daily Beast.
_____
Check out this very creepy short film: What if you found out that everyone dreamed about you last night?
_____
Now that it's over: The origins of Friday the 13th.
_____
A Nine Mile Falls resident politely asked two men to not "borrow" her lawnmower while showing them her gun. They discontinued the borrowing process.
---
3/13/15
My friend Arp Xigar has been saying this for many years now: Cows are evil.
_____
Simulations back up the theory that the universe is a hologram.
_____
Every year, sharks kill 10 people. Every year, 100 people die from being stepped on by cows. Moo.
_____
Spend the night 200 feet underground in the Caverns Inn, a unique Route 66 motel and diner.
_____
A Nazi project aimed to breed back into existence an extinct set of killer cows and succeeded, sort of, using the same techniques employed to purify the Aryan race.
_____
Moo.
_____
Planning for the afterlife? Consult this handy guide to Dante's nine circles of Hell and find out who you'll be spending eternity with.
_____
The best of the Evil Cows meme.
_____
Frank Zappa's cover of Stairway to Heaven.
---
3/12/15
If belief in God means nothing to you, why proselytize one way or another? On the strange nature of evangelical atheism.
_____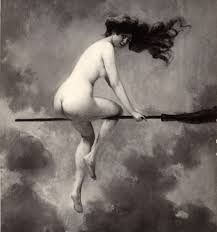 Cult leaders who used sex to control.
_____
Attention is a finite resource, harvested by advertisers: The cost of paying attention.
_____
High school students would need to score 70% or better to graduate if an Idaho bill passes. Take the test.
_____
One million firecrackers all at once.
_____
Rude in Tokyo, rude not to in New York - tipping mystifies tourists, economists and anthropologists. Should we stop?
_____
If popular music is escapist fun, why are the songs often so sad?
---
3/11/15
The deep problem, for Philip K. Dick, wasn't that mechanisms might become more manlike. It's that men might be reduced to mechanisms.
_____
The Spokane Public Bath House, built in 1914.
_____
People take Molly not just to get high but also because it makes people feel friendly, loving, and strongly connected to one another.
_____
The first of many multimillion-dollar projects to remake Riverfront Park launches this week as the city begins building a team that will determine the overarching look and design of the park.
_____
The wisdom of Sun Tzu's "The Art of War" in seven charts.
_____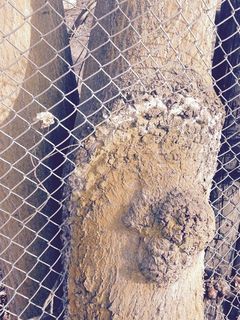 Philosopher Daniel Dennett on the four steps to arguing intelligently.
_____
Fence/tree collision near Mission Park.
_____
And then there's the Monty Python way.
_____
Why did victims in Islamic State beheading videos look so calm?
_____
Will your seventh son turn into a werewolf? Unless the Argentine president adopts him?
_____
See how Mount Rushmore was supposed to look.
---
3/10/15
Activist and Pulitzer Prize-winner Chris Hedges thinks America is ripe for revolution. He is in Spokane tonight at The Bing for a talk on the "Wages of Rebellion."
_____
A humanities professor collected data from thousands of novels. The research suggests that plots have only six archetypal shapes. Check out the collision of data and fiction.
Kurt Vonnegut on the shapes of stories.
_____
Peter Sellers reads The Beatles' "She Loves You" in four different accents.
_____
US weapons exporters lead the world in war profiteering.
_____
Why the city of London should revive a 19th-century plan for an uptown necropolis - a death pyramid - population 5 million.
---
3/9/15
A magical day in Spokane yesterday: The temp was below freezing when I biked to work; sunny and warm at 65 degrees by mid-afternoon. There were hundreds of people in Riverfront Park. I heard six or seven different languages spoken. I eavesdropped on a German family who were taking turns imitating the roar of the falls. I considered offering a native roar, but decided against risking an international incident.
_____
Here's an interesting site about Spokane history from the Public History program at Eastern Washington University. And there's an app.
_____
Only humans seek to remove their hair, using increasingly strange and impressive methods.
_____
Did a human or a computer write this?


_____
Here are all of the rockets of the world to scale.
_____
Beethoven is the preferred musical accompaniment to virtual killing: The rise of first-person Romanticism.
---
3/8/15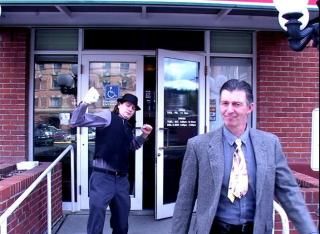 Human culture has become more like David Lynch's hair than at any other time in recorded history.
_____
The never before told story of one of the world's most beautiful and iconic music venues, The Gorge.
_____
Julijonas Urbonas' Euthanasia Coaster: A roller coaster designed to kill people.
_____
We live on the edge of drowned worlds and are descended from their inhabitants. What lies beneath the flood myths? Out of the Deep, an essay on underwater civilizations.
_____
Daylight Saving Time is the greatest continuing fraud ever perpetuated on the American people.
_____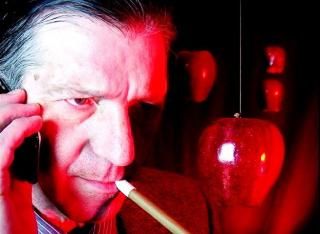 Anthony Burgess and the top secret code in A Clockwork Orange.
_____
Shaky, old video of Stevie Ray Vaughan doing Voodoo Chile at The Gorge in 1990.
_____
Naked bodies dipped in honey.
_____
A new documentary lays out how the fossil-fuel industry funds talking heads to sow confusion about climate change in a deliberate imitation of the successful doubt-sowing tactics of the tobacco industry.
---
3/7/15
About 50 protesters - many of them armed - gathered on federal grounds in downtown Spokane yesterday to express concern over the arrest of an Iraq war veteran who was carrying an assault rifle outside the Thomas S. Foley Courthouse a week earlier.
Yes, these people are scary looking. No, I wouldn't want to have a beer with them or see their taxidermy collection. But I do not understand the liberal's bloodlust for wanting these people arrested.
Some of the smartest human beings in modern history said that it is a good thing for the government to fear the people. What better way of accomplishing this than having armed citizens march in front of the courthouse?
---
3/6/15
Carrie Brownstein and Fred Armisen on how to order coffee.
_____
Charles Babbage was one of the fathers of computing, but in addition to his fascination with mathematics and engineering, he had a curiosity with the occult: Like the time Mr. B tried to summon the Devil.
_____
Riverfront Park prepares for its $64,000,000 makeover.
_____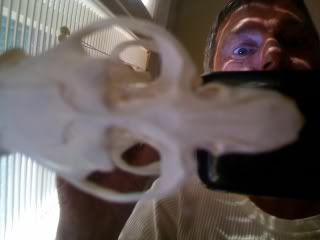 When things happen that you can't explain: Are remarkable, unexpected experiences evidence of the supernatural?
_____
Top 10 emerging technologies of 2015.
_____
Check out The Logan, Gonzaga University's version of The Onion.

_____
A year after flight MH370 disappeared, Wired Magazine looks at the most logical (and craziest) conspiracy theories.
_____
The United Kingdom wants a big laser gun: It won't just dazzle, it will burn.
---
3/5/15
Happy "Oh, Shit, I Haven't Paid Rent Yet" Day.
_____
My friend Arp Xigar insisted that I check out a disturbing mural near Third and Division in downtown Spokane. I did. And, yes, I could see how it might make some people feel a bit uneasy. The next day, someone vandalized it.
_____
Nine super-annoying things you do at restaurants, according to restaurant workers.
_____
John Carpenter's cult classic "The Thing": "The film pses a series of existential questions, the first one being whether it's even possible to discuss The Thing without sounding totally high."
_____
The city of Spokane installs signs to curb prostitution.
_____
People are affected genetically by the traumatic experiences of their ancestors.
_____
The four stages of being a dive bar regular.
---
3/4/15
From double penises to "human werewolf syndrome," a sampling of scientific oddities from Lapham's Quarterly's "Medicine" issue.
_____
How making movies in Washington can boost the state's economy.
_____
A stunning overreach from the DEA is playing out in Eastern Washington.
_____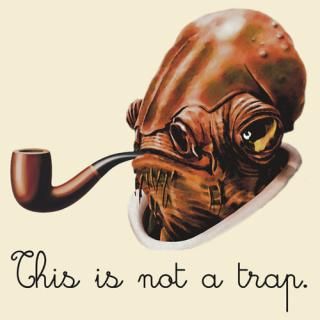 René Magritte, comedian: "It's noticeable that many of the techniques Magritte uses for creating his mysterious images are to be found in comedy writing. His pictures are frequently structured like jokes."
_____
Bank of Canada urges Star Trek fans to stop "Spocking" their five dollar bills.
_____
Seattle man claims he is Kurt Cobain.
_____
The ghoulish post-mortem fairy tales of Mothmeister.
_____
Burial pods turn you into a tree after death.
---
3/3/15
Alton Brown, chef and Food Network personality, ate his way around Spokane this weekend.
_____
Two natural philosophers discuss the mind: An imagined conversation explores perspectives on the brain and consciousness.
_____
Departures: Stages of decay, mourning practices, and afterlives from across the globe.
_____
Why should we have to rely on a priestly class of experts who are the sole inheritors of technological knowledge? Our laptops are sleek and polished, our operating systems are fluid and intuitive. Computing is easy and that's a problem.
_____
Why our children don't think there are moral facts.
_____
Philip K. Dick, a heavy user of methamphetamines, experienced a series of visions in 1974 which caused him to believe that time had stopped in the year 70 and that the world around him was an illusion.
_____
Van Gogh on principles, talking vs. doing, and the human pursuit of greatness.
---
3/2/15
We've grown: My old friend Phopaw showed up out of the blue yesterday. We went out for breakfast and talked about old times and THE SCENE MAGAZINE DID NOT COME UP EVEN ONE TIME!!!
_____
Chicago police detain Americans at abuse-laden, CIA-inspired "black site."
Protesters demand answers about Chicago "black site."
_____
Baby! Love Your Body! - a bizarre psychedelic sex education video supposedly made for children.
And since we went there: Snoppen och snippan.
_____
Game theory calls cooperation into question: A recent solution to the "prisoner's dilemma," a classic game theory scenario, has created new puzzles in evolutionary biology.
_____
You can be religious without being a hate-mongering Bible thumper who denies evolution. You can be scientific without being a know-it-all who denigrates people of faith: What the science-vs-religion debate ignores.
---
3/1/15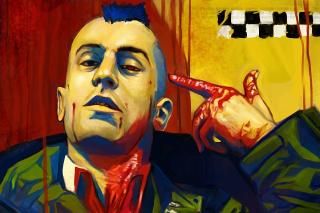 Funniest SNL skit I've seen in a long time: A father (Taran Killam) has an emotional moment as daughter (Dakota Johnson) goes off to join - ah...
_____
This idea must die: Some of the world's greatest thinkers each select a major misconception holding us back, from race to IQ to the self.
_____
Nobody knows what happens inside quantum experiments. So why are some people so keen to believe in parallel universes? Is the Many Worlds hypothesis just a fantasy?
_____
America's forgotten images of Islam: Popular early US tales depicted Muslims as menacing figures in faraway lands or cardboard moral paragons.
_____
World's first grid-connected wave power station is switched on in Australia.
---
2/28/15
Scientific American finally cuts through the crap about the color of "that dress."
_____
What happened to words like aquabob, clinkerbell, daggler, cancevell, ickle, tankle, shuckle, crottie, doofers, honeyfur and zawn?: Our shrinking vocabulary of landscape.
_____
William Powell published The Anarchist Cookbook in 1971, when he was only nineteen. Thus ensued a very unanarchic quest, on his part, to remove it from print. Sooner or later, even hippies put on a coat and tie.
_____
From S-R columnist Doug Clark: The strange story of the unsolved murders at The Spokane Street Motel.
_____
Here are the songs sent into the deepest reaches of space on the Voyager 1 and 2 spacecraft.
_____
Hemingway shoots his cat.
_____
Did Magic Alex promise to build the Beatles a flying saucer?
---
2/26/15
Oh, the stories I could tell if I didn't need to pay my rent.
_____
David Cronenberg on The Metamorphosis: The master director on Kafka and growing older.
_____
Here are some of Jesse's storyboard notes for the upcoming Mr. Dark shoot this weekend. --->
_____
Nine easy hikes near Spokane.
_____
Still waiting to see if my Kahlua and coffee will use its powers for good or evil today...
_____
Alejandro Jodorowsky on Psycomagic.
_____
Eye-opening photos of folks who illegally hop trains across America.
_____
Adolf Hitler on modern art: "Cubism, Dadaism, Futurism, Impressionism, have nothing to do with our German People."
_____
Banksy shares new work and video from Gaza.
---
2/23/15
I'm only writing this so I'll stop staring at the black void below the 2/23/15 and the lonely blinking vertical line where nothing was being written.
---
2/21/15
Over the years of living in or near downtown Spokane, I have developed what can only described as a spiritual bond with the Spokane River. This connection is easily sealed at times like these when the river is high and I can stand on one of the footbridges and be in awe of its roar, feel its spray coat my face, feel its rumble at my feet. Other times more effort must be put into the worship, and I have to step down to the river's edge, kneel like I'm praying, and physically dip my hands into the water. It's at those times when spiritual gifts are granted - like the other early morning, as I waited for my hands to dry and warm a bit, and in my hypnagogic state the wisps of fog on the surface became as hundreds of ghostly alien babies and I became the sole judge of their slow-motion jitterbug competition.
---
2/20/15
I am so obsessed with trying to turn a mediocre restaurant into a professionally run organization that I have lost track with nearly everything going on around me. We could be at war with Idaho and I wouldn't know it. The president and all of Congress could have revealed themselves to be lizard people and I am ignorant of the fact; I probably served them fettuccine. Please, God, let me talk to one person today who doesn't smell like food or hysteria.
---
2/16/15
It was the nicest day of the year so far. I took a few hours off from work (the first real break I've had since Thursday) partook of a wee bit of our state's newest freedom, and went for a bike ride. It seemed that all of Spokane had crawled from their lairs and into the glaring sun, as if the Winter evil has already passed over.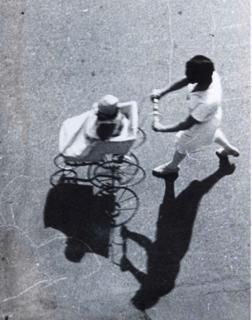 There were so many people on the Centennial Trail there were traffic jams. At one point, on the arched walkway over Freya Street, I had to stop while a clan of foreigners - perhaps Russians, oblivious to our customs - claimed the entire trail, the men walking up front, followed by the women and children.
Behind the children trailed the youngest woman of the group, mid-thirties or so, very attractive, and pushing a baby carriage. She stopped, looked at me and smiled, seemingly innocently. For a moment I felt like a Savanna predator about to pick off the weakest of the herd. Then, her smile twisted slightly, became something entirely different. Her eyes grew wide. Her nostrils flared. And for the next ten seconds or so, we boned the dog snot out of each other with our eyes only.
It was primitive and lewd and wonderful, probably illegal where she came from. Then she walked on, leaving me all sweaty and snorting like an ox. She actually stopped at the bottom of the bridge and lit a cigarette. It was the best sex I've never had.
---
2/13/15
What's left of my heart and soul belong entirely to the restaurant for the next two days...
_____
To the guy I was arguing with at the coffee shop yesterday about the justification of the state and private companies requiring urine tests for employment: What if instead they required a feces test? Would you poop in a cup for the Man?
---
2/12/15
---
2/11/15
---
2/10/15
I've been working on the Mr. Dark website. Last night I did this animated GIF
of Reilly and Frost:
---
2/9/15
That's a wrap for the first filming weekend of Mr. Dark. Jesse says it went spectacularly well. Keep up with the creative madness by clicking here.
---
2/6/15
Shooting of Episode Two starts tomorrow!
---
2/2/15
I knew the Seahawks lost when I saw some lady's face paint streaked with tears.
_____
Please bear with me for a few more weeks, good readers of this humble site; I'm still neck-deep in restaurant horrors. Even still, I'm able to keep at least a few toes dipped in the aestheti-pool of Spookaloo:
(1) I am putting the finishing touches on a new sci-fi/horror (?) short story and am considering where to submit "The Singular Notion of the SR28 Basic Series."
(2) I'm doing what little I can to assist director Jesse James Hennessy (who was recently voted into the local film society) as he gears up to begin shooting Episode Two of his Mr. Dark Series this weekend.
---
Continue your journey through recent archives of OtherSpokane:
Jan '15
Oct '14 * Nov '14 * Dec '14
Aug '14 - Sept '14 * May - July '14 *
Jan - April '14 * Sept - Dec '13 * April - Aug '13
Feb - March '13 * Dec '12 - Jan '13
Oct - Nov '12 * July - Sept '12 * Jan - June '12
2011 * 2010 * 2009 * And beyond...
_____
Please read the OtherSpokane DISCLAIMER
editor@otherspokane.com


Stik Mann's OtherSpokane and all content within
Copyright © 2015, Steven J. St. George
(unless otherwise noted or as obvious
as a dead mouse in a Jell-O mold.)