Running with Scissors Since 1999
---
This is an archive site.
Go to the Current Blog.

12/31/09
If you're going to First Night in downtown Spokane tonight, be sure to visit the auditorium at City Hall to watch the finalists in the Spokane 48 Hour Film Festival. Our film, "bag," is one of the eight to be shown - repeatedly - starting at 7:00 pm. Happy New Year!
_____
As of 11:59 pm tonight, this website celebrates its 10th anniversary!
---
12/29/09
Wow! There's something to say about persistence. For the first time in 10 years, this humble website has topped the 10,000 mark for monthly hits. Yesterday set the record for daily hits with 731.
_____
More fun with my camera...
(Click for a larger pic.)
---
12/28/09
Here's Jesse's new video in celebration of the new year.
Come get your LOVE JOB.
---
12/18/09
This just in. Our film "bag" was one of the eight selected - from the 27 submitted - to be shown at Spokane First Night! Here's a list of those eight in alphabetical order:
1. Blackbox Pictures - "Prove It"
2. Breakfast Productions - "Exposure"
3. Brundlefly - "The Abomination"
4. Gonzaga Film Club - "Gotcha"
5. OtherSpokane Productions - "bag"
6. Seasoned Eagles - "Dust to Dust"
7. Shorty Heaven - "Project Greenman"
8. Wool Knit Cap - "Half the Battle"
These films will be shown in five different screenings on New Year's Eve in the City Hall Auditorium beginning at 7 p.m. They'll be awarding First Place and Runner Up in two categories: Judge's Choice and People's Choice. Show up and vote for your favorites! The winners will garner a spot in the nearly-illustrious Spokane Film Festival.
---
12/14/09
Click here to go to Jesse's YouTube favorites for a collection
of currently posted Spokane 48 Hour Film Fest entries.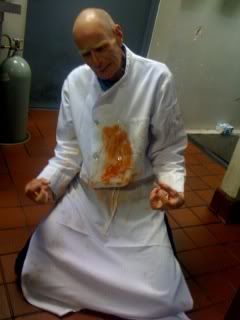 Some images emerging from the haze of those fateful 48 hours:
Jesse explaining why we need three different types of fake blood.
"One is mostly non-toxic so you can put it in your mouth in case we need gurgling and spitting..."
The reaction of the bookkeeper at Luigi's when she walked in the back door and came face to face with Brynne covered in blood and holding a large knife.
John's on-camera rendition of "That's Amore."
Which we didn't use (yet).
---
12/07/09
Here's our entry to the 48 Hour Film Fest. God help us all.
---
12/06/09
Just turned in our entry to the 48 Hour Film Fest. Look for the short film from OtherSpokane Productions entitled "bag." It's so bad it's good. It's insane and inspired. It's so good it's bad. Jesse was up all night doing the final edit. When I last saw him he said something about angels in drag and ended the sentence with something about Nazi death camps. We could all use some sleep.
---
12/05/09
We're in the middle of the Spokane 48 Hour Film Contest!
All twenty or so teams must include the following in their movie:
Prop: A zip lock bag
Location: A restaurant (!)
Dialogue: "It is your head, arms, legs, what? Just tell me!"
Each team drew a separate genre. We drew HORROR!.
(Wish us luck. The clock is ticking.)
---
12/03/09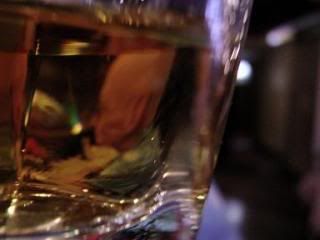 I was having a drink with John after work when he morphed into one of the alien creatures from that Twilight Zone episode where the humans find one of the alien's books and translate the title "How to Serve Man" only to later find out "It's a cookbook! It's a cookbook!"
---
12/02/09
A local restaurant gets an unintended boost to its advertising buck.
---
11/25/09
Police divers practicing in Riverfront Park.
---
11/24/09
Jesse just entered us in the Spokane 48 Hour Film Festival. A contest where participants are given a universal theme, a prop and a line of dialogue that must used. Teams then have exactly 48 hours to write, shoot and edit a 3-5 minute short film.
---
11/23/09
Been playin' with my camera...
---
11/22/09
The last thing I remember last night is working eleven hours without a break, stressed out, running up and down stairs, people tossing pans, people screaming, babbling, bleeding. (I work in a busy restaurant.)
No, wait... The last thing I remember last night is leaving work, dazed and confused, and having two drinks too many at Mootsys tavern.
No, wait... The last thing I remember last night is staggering home through the cold and the wet and laying in a very hot bath. Oh, yeah. Finally, life is good...
No, wait... The last thing I remember last night is being in the Arctic regions, snow and icy wind whirling about me, chilling me to the bone. A herd of penguins surround me. One of the horrid creatures says to me, "Dude, you look like shit." It never occurs to me that penguins can't really speak.
No, wait... The last thing I remember last night is waking up at 3:30 in the morning in ice cold bath water, shivering, shivering, shivering...
No, wait...
---
11/18/09
"Dude, this place is great."
James in Austin, TX
---
11/15/09
Just got a new camera.
See?...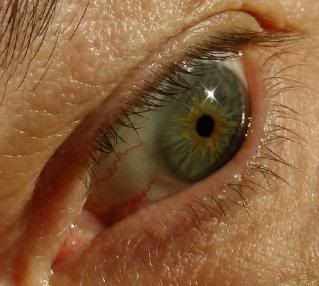 ---
11/14/09
---
11/09/09
Trip Clip. Trip Clip. Trip Clip
Descent into the Valley of Death
---
11/04/09
Another Trip Clip:
Ghost Town
---
11/01/09
I did another Trip Clip:
Antelope Near Devil's Tower.
(See the others in the sidebar.)
---
10/29/09
Here's Jesse's Halloween video offering: A Leroy Lovegun Halloween. Leroy goes on an epic trick or treating adventure. Goofball awesomeness abounds. For more Lovegun goodies, click here.
---
10/26/09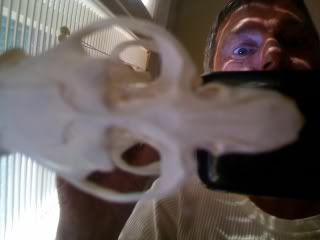 Skull Studies (with smoke and mirrors)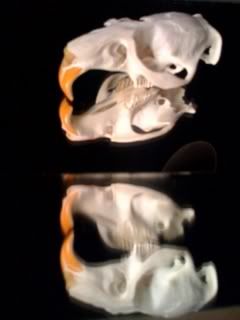 I found this skull while on a bike ride in
the Turnbull area near Cheney...
Where I always discover something new...
And unusual...
Mysterious...
And strangely satisfying...
---
10/26/09
Here's one of our video offerings for Halloween: GUNTher - Ein fest fur GUNTher.
GUNTher and friends come to realize that it's possible to party themselves...TO DEATH!!!
Featuring Professor Terrington and Mr. Needles as their inimitable selves.
---
10/24/09
James' new ride - the Lite Foot Bike. He drives around Texas on this.
---
10/22/09
Unless you were at the Big Dipper last night, you missed out.
The Hold Steady - a Brooklyn-based, riff-heavy, post-punk band - rocked a relatively small group of Spokanites and groupies in an intimate setting that few are likely to ever experience again. (So intimate, in fact, that lead singer, Craig Finn, stopped the show to apologize to a girl who he whacked in the head with his mic.)
High volume, sweat and steam, bizarre religious imagery, wide-eyed groupies, an animal lib freak who stormed the stage, a lead guitarist with an array of impressive weaponry, a keyboardist who looks like Gomez from The Addams Family, and tight, hyper-fun, upbeat, lyric-heavy rock and roll - what more do you want for a Wednesday night in Spokane?
---
10/20/09
What is this?
I found it on the South riverbank, a few
miles downstream of the Bowl & Pitcher
Aboriginal net weight? A relic from Spokane's industrial past?
---
10/15/09
Okay, dudes, get a grip. The following video - HR 8791, the Homeland Security Preparedness Bill - is a hoax:
http://www.youtube.com/watch?v=zlvxIdSI7V4
It's from The Onion - a satirical "news agency."
---
10/11/09
Snapshots from the Leroy Lovegun Halloween shoot: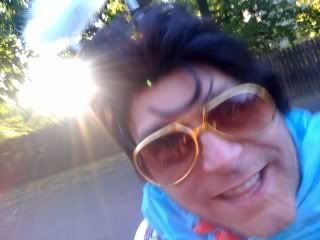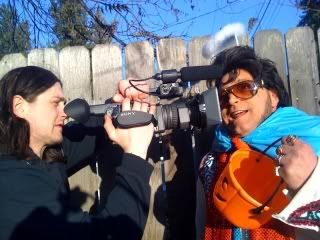 ---
10/09/09
POTUS to-do list:
1. Win Nobel Peace Prize
2. Expand war in Afghanistan
---
10/08/09
Yet another stuck truck. Downtown. About 3:00 pm.
Maybe not all that dependable.
---
10/07/09
Begins here account book of Chuck Palahniuk "Pygmy" by editor me. Easy read no. Style English broken. Boy Pygmy with group spies sent evil America so instigate Operation Havoc. Esteemed Palahniuk typical wallow in own cleverness perhaps excessive so yet wondrous still work much. Much enjoyed by editor me.
---
10/06/09
Here's James being prepped
for Jesse's short film,
"Pussy's in the Well."
You'll never look at nursery rhymes
the same ever again...
---
10/05/09
Right when you think it's about to climax, the Hardin thing just gets stranger and stranger.
___
I'm still amazed at the lack of press coverage of the violence at the G-20 conference in Pittsburgh just over a week ago. Few people are aware that police used sonic weapons on American citizens, or that a scene like this could happen on an American street.
Dig Wesley's take on the G-20.
___
I just watched a lecture by one of my favorite Northwestern personalities, Pastor Chuck Missler, from Coeur d'Alene, ID, about UFOs, and how the Nephilims of the Old Testament could actually be extra-dimensional beings. Awesome.
---
10/04/09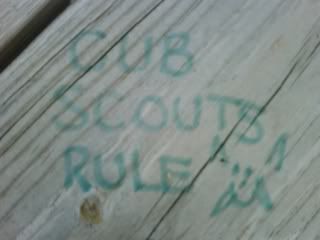 Text from James:
I am at the site where David Bowie
and the Spiders from Mars successfully defended
a pile of rubble from one million Vietnamese.
---
10/03/09
Upon seeing that I had befriended (on MySpace) the criminally insane, convicted murderer, Phillip Paul (see 9/29), my non-murderer friend Jesse James Hennessy had a revelation. Last year he and my daughter-in-law Karen were out doing some promo work for his film "Leroy Lovegun" when they interviewed an unusual man playing guitar on the streets of Spokane.
Check it out here at 1:46. The video was taken on August 10, 2008. Shouldn't Philly Willy have had some kind of Hillbilly supervision?
---
10/02/09
---
10/01/09
The Hardin story just gets bigger and bigger. (Sorry, I can't help it - see 9/30.)
Alex Jones claims that American Police Force (APF) in Hardin, MT is a Blackwater Front Group.
Even Michelle Malkin wrote about it. And yes, tried to blame it on Obama.
This just in: The Montana Attorney General announced that the kingpin of the APF is a Serbian immigrant with a long criminal record and that the AG is going to investigate the whole shebang.
---
9/30/09
What's going on in Hardin, Montana?
(First of all, let's be careful how we pronounce Hardin - it's "Hard-in" - despite the fact that it's near where Custer had his "last stand.")
Neil Katz at CBS News reported that "American Police Force, a little known company which claims to specialize in training military and security forces overseas, has seemingly taken control of a $27 million, never-used jail, and a rural Montana town's nonexistent police force."
Google for yourself. (And don't miss the videos.) It's all quite unnerving.
---
9/29/09
People are already lining up to buy Sarah Palin's memoir, "Going Rogue." Scheduled to be released November 17th from publisher HarperCollins.
___
Remember Phillip Paul, the criminally insane escapee from the Spokane County Fair? He just accepted my friend request on his MySpace page: Philly Willy and the Hillbillies.
I can't get his very poignant song out of my head: "Rockin' and a rollin' in a mental institution. God only knows it's against the Constitution."
---
9/28/09

I wrote to Jennifer DeRuwe, from the Spokane Police Department's
Public Information Office, about an extraordinary claim by Austin, TX,
radio talk show host, Alex Jones, during his 9/23/09 broadcast.

After bemoaning government opposition to personal gun ownership, and the
rise of warrantless searches - which he called "knock and talks," he
claimed that Army officers have been assigned to the Spokane Police
Department "intelligence office" to investigate local threats to
security.

Here's the quote:

"Three or four or five Army liaison officers from the regular army, from
Homeland Security, have been given as a federal grant to Spokane WA
to...the police department, and they're gonna be assigned to the police
intelligence office, looking for local threats."

I asked DeRuwe if there was any truth in this. Have armed service personnel of any
sort been assigned to work with the SPD in any capacity whatsoever?
She wrote back:
"After checking, there really is no truth to those statements. We do not
have any Army officers working for us."
---
9/27/09
New cool tool!
AM/FM, weather channel, powerful flashlight, cell phone charger, solar or crank powered. $30 @ rei.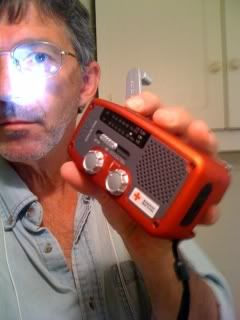 ---
9/26/09
I tried, I tried to kill Stik Mann. But he wouldn't stay dead.
Blame this guy -
- the first cop, for the first time on American soil, to use the LRAD (Long Range Acoustic Device), a sonic weapon - previously reserved for Iraqi terrorists and Somali pirates - on his fellow citizens.
On us.
His THOUSANDS of buddies - shipped in from all over the country to "keep the peace" at the G-20 summit in Pittsburgh - joined him in the Benedict Arnold-a-thon, spraying tear gas, firing bean bags from shotguns, and tossing flash-bang grenades - at their fellow citizens.
At us.
This is an archive site.
Go to the Current Blog.
---
Please read the OtherSpokane DISCLAIMER


Stik Mann's OtherSpokane and all content within
Copyright © 2010, Steven J. St. George
(unless otherwise noted or as obvious as an earphone at a Christian militia meeting).