Running with Scissors Since 1999

This is an archive site.
Go to the Current Blog.
12/29/10
This Friday, at 11:59 pm, this humble website will celebrate its TEN YEAR anniversary.
I remember the birth well: the nation was in the midst of the Y2K hype. Remember? Everything nerd based was going to crash and burst into e-flames. So, in an act of both defiance and faith, one minute before midnight, I hit ENTER, and www.OtherSpokane.com came into being.
Sixty-one seconds later, I realized that there would be no bread lines, no government agents would be breaking into houses and confiscating weapons, no gangs of drug-crazed teenagers would be terrorizing the streets, and I would not be able to claim one of the shortest lived websites in history.
And I have to confess, dear readers, that I was more than just a tiny bit disappointed.
---
12/27/10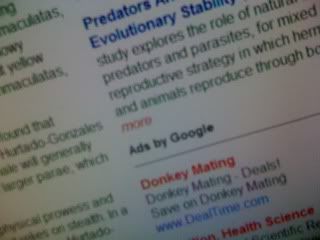 ---
12/26/10
Is it over yet? Can I pull my head out of this hole?
---
12/20/10
Just after midnight tonight -- Winter Solstice, full moon, full eclipse. I'd feel better if there were some virgins and volcanoes nearby.
_____
I rename five Yellowstone geothermal features in honor of comedians from the Golden Age of Television.
---
12/19/10
A Riverfront Park amusement ride for the brave.
---
12/14/10
Today at work, I heard Twisted Sister's ridiculous, god-awful version of "Oh, Come All Ye Faithful." If you haven't heard it, you should seek it out - it's really appalling. I'd rather hear Marilyn Manson singing "Here Comes Santa Claus." Anyway, later that day, I noticed where the Singing Nuns had booked a banquet at the restaurant. And I thought, dude, if they sing that Twisted Sister song...
---
12/13/10
This weekend I watched "Even Dwarfs Started Small," by Werner Herzog. It's an awesome film (despite the stupid title), allegorical and poetic, about inmates (very small ones) taking over the asylum. The final 20 minutes are wonderfully chaotic.
_____
I also saw "Splice," the genetic-tampering-gone-bad, sci-fi thriller with the great Adrien Brody. If you stayed awake in science class you'll have to gulp an enormous suspension-of-disbelief pill. Even still, it's a lab full of fun, very creepy and pleasantly disturbing. Images from the end of the movie have literally haunted my sleep.
_____
I also saw "Final," a film starring Denis Leary as an asylum patient who suspects from the beginning that all is not as it seems. Hope Davis is impressive as Leary's doctor. It's a movie where the genre isn't apparent until close to the end.
_____
That's right, I didn't get out much.
---
12/11/10
Would it be a sign of success if you took the Facebook "Which Drunk Author are You" quiz and it came up as yourself?
---
12/10/10
Help me change the Spokane slogan!
---
12/9/10
Someone down the street just yelled, "I won't be your goddamn wombat, Lisa. You can't color me like that!" Brownes Addition. Spokane, WA. USA. Earth. Milky Way. Universe. You'll love it here.
---
12/8/10
So, unlike last year, we didn't make the top eight finalists in the film fest. But there is no discouragement here. This event is super challenging, artistically stimulating, and amazingly fun. There were very few of those 2,880 minutes where something wasn't revealed about story telling, scriptwriting, motivation, community standards, improvising, actors, digital technology, inspiration, cleavage in cinema, the dangers of caffeine, sound capture, moral relativism, fake blood, F-stops, editing, background noise, special effects, whiskey, focus, sleep deprivation, smooth-talking, ego, lighting, bribery, and much, much more.
_____
Support this event by attending First Night Spokane on New Year's Eve in downtown Spokane. The top eight films will be showing every hour on the hour at City Hall beginning at 7pm. Or (not surprisingly), the official OtherSpokane pick: go to the Magic Lantern where all 22 entries will be looping throughout the night for people to watch as they come and go. Or, go to the smaller Magic Lantern theatre where last year's 48-Hour entries will be shown, including our film "bag."
---
12/7/10
Click here to watch our film for the 48 Hour Film Contest. We had 48 hours to make a short film no longer than 5 minutes within the following randomly picked parameters:

1. Theme: The number 10.
2. Location: A stairwell
3. Line of dialogue to be spoken: "Maybe if you knew what it was like to deal with this, you'd think differently."
4. Prop: The six of hearts card.
5. Bonus - Have at least one purposefully out of focus shot.
---
12/6/10
We turned in our entry to the 48 Hour Film Fest yesterday with 28 minutes to spare. I have to say that, while it has problems, and it looks like we slapped it together in 48 hours, and I don't think people will understand it, I absolutely love it. Some of Jesse's camera work and editing are inspired. But, the show was stolen by the star, Nirvana Houghton, whose acting and screen presence is intoxicating.
_____
When we turned in the film, Tomas' from North by Northwest took it and threw it in a big box with all the others. Jesse thought it was a bit disconcerting, and compared it to that scene at the end of "Raiders of the Lost Ark" where the Ark of the Covenant is stuck away in the enormous warehouse. That's right, he compared the film to the HOLY THRONE OF GOD.
---
12/5/10
If all goes well, we should make today's 7:30 deadline for the 48 Hour Film Fest. As usual, the final product will be nothing like we thought when we begun. Anyone with more than a passing interest in filmmaking should consider competing. It's totally worth the expense, loss of friends, loss of sleep, law suits, headache, heartache and brain damage.
---
12/4/10
We just finished shooting for the 48 Hour Film Festival. Jesse is editing right now (unless he passed out). Our star, Nirvana, was awesome! Thanks to everyone who helped out.
The finished product is due at 7:30 tomorrow night at the North by Northwest building. We'll be cutting it close.
In the meantime, watch "Because Art Matters," a behind-the-scenes look at me and Jesse shooting his short film "On this Lonely Thanksgiving."
---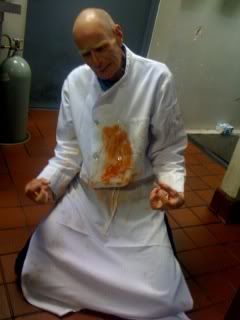 11/29/10
I'm getting all psyched up for another 48 Hour Film Festival, happening this weekend. Here's the deal. On Friday night, each team receives randomly picked parameters: A line of dialogue, a location, a prop - all of which must be used in the three to five minute film. The teams have 48 hours to write, rehearse, shoot, edit and turn in their film.
Click here to watch BAG
- our entry from last year.
_____
Also, I've been working on a story for The Inlander's short story contest, due tomorrow. It felt good to concentrate on writing again.
---
11/25/10
Here's Jesse's latest: On This Lonely Thanksgiving.
I'm behind the scenes with "tech support" and dead bird puppetry.
---
11/24/10
It was so cold walking to work today that my camera wouldn't function. It it did, though, you'd be seeing here a great tracking shot of five mail trucks unsuccessfully trying to be started by five very frustrated mailmen.
---
11/23/10
It's currently five degrees. The predicted high tomorrow is nine degrees. Sometime in the next 24 hours we can look forward to an increase of FOUR degrees. It's gonna be great!
_____
I channel Bill Cosby.
---
11/22/10
While filming yesterday, I was asked to spit a full mouthful of beef gravy in someone's face. Still, I felt good about it, though I thought it needed salt.
_____
We just had the first real snowfall of the year.
It's beautiful right now; but ultimately, the snow blows.
---
11/21/10
Just another typical Sunday...
---
11/18/10
I just watched "Until the Light Takes Us," a documentary about the Norwegian black metal subculture of the '90s. They didn't just sing about church burning, suicide and murder, they lived it, and backed it up with logic and dark philosophy. In doing so, they took an obscure offshoot of heavy metal and shoved it in our worldwide face.
---
11/16/10
---
11/15/10
I had lunch at Chicken-N-More with Arp Xigar today.
Topics of Conversation: Death, sex, internet, immortality, Japanese anime, boredom, medical anomalies, beauty, murder, travel, God, vandalism. resurrection, computers, perversion, ugliness, love, etc.
Menu: Catfish (pretty good).
---
11/14/10
I just watched Ingmar Bergman's "Hour of the Wolf," made in 1968, the year after he made the ingenious "Persona." Still, the two movies are nothing alike. "Wolf" reminds me a lot of Lars Von Trier's "Antichrist," with its dream logic and expressionism. Essentially, though, it is Gothic horror - from one of the world's most unapologetic and peculiar artists.
---
11/13/10
Yet another movie that the critics didn't like but I think is genius: John Cassavetes' "The Killing of a Chinese Bookie," from 1976. A sleazy nightclub manager (played by Ben Gazzara), is in debt to the mob, and pressured to murder an underworld power. The purposefully haphazard camera work is amazing and soooo '70s.
---
11/10/10
This happened sometime last night.
Evidently the zombie killers are still at large.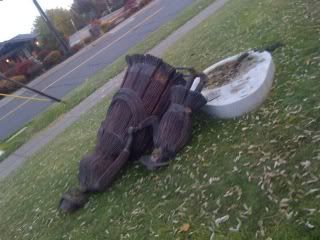 I took this photo around 7:00 am. I went by again at 1:30 and the statues were gone. Did the city reclaim them? Did someone steal them? Or, did they reanimate and trudge away screaming for BRAINS?!! BRAINS!
---
11/9/10
Yeah, we bad. This shot appears at the end of
this very trippy Billie Holiday video.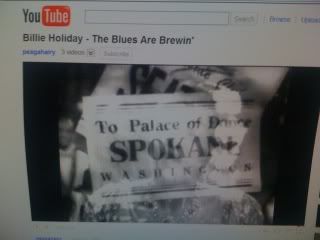 ---
11/8/10
I document a Jesse James Hennessy video shoot.
---
11/7/10
Tag from "Tex" - King of Tramps - who left his mark on bridges, RR water towers and depots throughout the US in the '30s and '40s. This one is near Cheney, viewable from the Spokane/Cheney bike trail.
---
10/31/10
The Westboro Baptist Church recently brought their show to Spokane. I film the event and try to make sense of the madness.
---
10/23/10
Here's my theory of why Dino Rossi can never win the office of Washington State governor: it's not just his messed up politics; we've voted in plenty of horrendous politicians. I think it's because of his messed up name: the only Dinos we know are Dean Martin, who was drunk all the time, or Dino, the Flintstone's family dog, who was imaginary.
---
10/22/10
Thank you, esteemed web surfers: yesterday, this humble website set a one-day traffic record of 2718 hits.
---
10/21/10
The circus is coming to Spokane! Today I'll be out shooting (that is to say, filming) the "God Hates America" people from the Westboro Baptist Church.
---
10/20/10
I'm back in the 'Kan(e). On my return trip I filmed at Grand Canyon, Monument Valley, and Arches National Park. Going through the footage now.
_____
Also, I "discovered" an awesome little town, Moab, Utah - super hip (in the midst of Mormon rigidity), great restaurants, cool people, trails, bike paths, all surrounded by staggeringly beautiful landscape.
---
10/10/10
The road trip begins. Please refer to my Facebook page for updates during the next ten days.
---
10/9/10
Tomorrow I'm setting out on another road trip. I'll be shooting a short film called "TEN" beginning on 10/10/10, which will last for ten days, wherein I endeavor to discover ten things I never knew before.
I won't be updating this blog but I will be true to my (much easier to update on the go) Facebook page.
_____
A true hero: Liu Xiabao - who can not accept the Nobel Peace Prize (and possibly not even know he's won it) because he is imprisoned by the Chinese government for promoting freedom of speech and basic human rights.
---
10/8/10
I just received a letter from a musician named Matt O'Connor who hung out in Spokane in the early 90s. Says he's looking for old friends. He names a lot of names and old haunts.
---
10/3/10
Have you heard the hype about GLEISE 581G, the newly discovered planet? They're calling it the Goldilocks planet, "not too hot, not too cold," suggesting the possibility of life. What they're not saying is that it's tide-locked, always exposing the same face to it's red dwarf sun. One step one way, you fry; one step the other, you freeze. The "perfect porridge" metaphor only applies to a thin strip between hemispheres.
---
9/28/10
The Libertarian Party says the Republicans should offer us an apology, not a "pledge." And it should go something like this:
"We're sorry, America. Sorry we grew the federal government budget from $1.7 trillion to over $3 trillion. Sorry we added $5 trillion to the federal debt. Sorry we doubled the size of the Department of Education. Sorry we started two incredibly costly foreign wars. Sorry we supported the absurd and costly TARP bailouts. Sorry we created a huge and costly new Medicare entitlement. Sorry we did nothing to end the costly and destructive War on Drugs. Sorry we did nothing to reform the federal government's near-prohibition on immigration. But hey, at least we helped you by shifting a lot of your tax burden onto your children and grandchildren."
I agree.
---
9/24/10
My friend and occasional film collaborator Jesse H. and I are having serious disagreements about Werner Herzog's new film "My Son, My Son, What have Ye Done?" Produced by David Lynch. I don't think it's a great film, but it contains flashes of brilliance, and is worth watching. Jesse HATES it, and in fact, is insulted by it. Have YOU seen it? What do you think?
---
9/22/10
PBS is showing an excellent special about the Mexican artist Jose Orozco. James and I saw his amazing mural in the Cabañas Cultural Institute in downtown Guadalajara, during a mind bending Mexican expedition. I still see Orozco's influence in James' artwork ten years later.
---
9/21/10
Crazy. I just saw where they reprinted (on-line) a poem I published in SFCC's pre-internet, pre-PC, literary magazine "Wire Harp" in 1988.
_____
I just watched Ingmar Bergman's Persona for the umpteenth time in my life - the first time nearly thirty years ago. It's absolutely unflawed in every aspect of filmmaking. Each time, more beauty, more psychic treasures are revealed. The two actresses - Bibi Andersson and Liv Ullmann - are stunning (even though Ullmann speaks only one word throughout the entire film). It's my pick for the best movie ever made.
---
9/20/10
I can't believe that more people don't have a problem with the red field at Eastern Washington University's football stadium. Isn't it an unfair advantage to be camouflaged - red uniforms against red surroundings? It's like having the forest-colored rebels shooting from the brush at the contrasting-colored enemy.
---
9/19/10
A line from one of my favorite Outer Limits episodes - The Form of Things Unknown: "Ooh. You're a sleek sack of sin, Kasha."
---
9/18/10
Light studies from an old Outer Limits episode.
---
9/16/10
Having been to both Tea Party parties and Lefty gatherings, I'm amazed at the similarities in the two. I see them waving the same signs: Big Gov off my back, eat the super rich, try actually reading that Constitution you're sticking in my face, stop acting like jerk-wad Nazis...
Maybe we should organize a sleep-over.
_____
I just watched both film versions of Vladimir Nabokov's great novel "Lolita" - the 1997 version by Adrian Lyne, and the much better Stanley Kubrick 1963 version with the amazing performance by James Mason - about one man's disastrous obsession with a young girl. I wish I'd have watched them both twenty years ago.
---
9/13/10
Jesse is at it again:
www.ChipsForBreakfast.com
My part required rigorous research and dedication.
---
9/12/10
An overturned semi with 3,000 lb of sodium hydroxide spilled today and shut down eastbound I-90. It's the same stuff that Mexican guy used to dissolve 300 drug lord murder victims. Or you can make hominy. I feel a new Tex-Mex recipe coming on.
_____
I just renewed my Health Card. I now have official, governmental proof that I am not a complete idiot.
"No tyranny is so irksome as petty tyranny." - Edward Abbey
---
9/11/10
Did you know there already was a Ground Zero Mosque? It was on the 17th floor of the south tower of the World Trade Center.
_____
I like how many in the media said that they wouldn't report on the wack-job, Floridian pastor if he and his flock actually burned Qurans. Real big of them, seeing that it was the media who turned the misguided man with the creepy mustache into a cultural icon.
_____
I'm not siding with any particular conspiracy theory, but the official explanation of why this building fell is total bullshit.
_____
---
9/5/10
---
9/4/10
Cactuses or cacti? Wishy-washy wordsmiths say both are correct. ScienceDaily just hedged the bet by using "cactuses" in the title and "cacti" throughout the text. Can't we just pick one and go with it?
---
9/2/10
Did Obama really say, during his Mission Accomplished speech, that the invasion and occupation of Iraq was to "disarm a state"? Did he really go on to nearly praise the traitorous criminal George Bush? Maybe they'll go on the road (ala Clinton/Bush Sr.) for their Rewrite History tour.
---
8/31/10
I just realized that next April I'll be 666 months old - the birthday of the beast.
---
8/30/10
My impressionistic view of the Mexican border town of Algodones.
---
8/26/10
Ominous weather in Spokane right now. Reminds me of Firestorm '91 (not a heavy metal concert, but what seemed at the time an actual storm of fire). Temp in the Eighties. Sustained winds of 35 to 40. Smoke and dust and strange colors choking the sky.
---
8/25/10
An amazing (but unintended) psychological experiment is being conducted right now in that mine in Chile where a group of trapped miners will have to spend at least 90 days before being rescued. Can you imagine being trapped with the people you work with?
---
8/3/10
Keeping the revered art of arm chomping alive at Mootsys Tavern.
---
8/1/10
Because of the Chelsea Clinton/Marc Mezvinsky wedding, look for a Clinton grandchild within a year. But, if the ex-Prez offers you a cigar - DON'T TAKE IT!
---
7/29/10
A researcher from John Hopkins reported that he has found hidden images of a brain stem and spinal cord in Michelangelo's depiction of God in the famous Sistine Chapel painting. Across town, motel workers found the image of Mary in a squished Hostess Twinkie.
---
7/28/10
So the US government can't account for for 8.7 BILLION dollars supposedly spent in Iraq, but they know for sure that I owe $370 in back taxes? I'm thinking they'll recover neither.
---
7/5/10
Jesse and I have fun with firearms on Fourth of July morning.
---
6/30/10
Welcome to Earth John Jude Darley. TEN POUNDS, 22 inches. Granddude number five. Texan number two. The team is now composed of Hazel, William, Bella, Jack, John. That's an infield. Right field's on deck. Put's things into perspective.
---
6/29/10
And then a loud whoosh! and . . .
---
6/28/10
Besides the monumental acts of rudeness, the body fluid soaked streets, and the gunfire, the real tragedy of Hoopfest is that these thousands of brain-damaged people come to our city and breed like chimpanzees, creating even more Hoopfestered creatures, and perpetuating the madness for decades to come.
---
6/25/10
Chef Dave with Kitchen Confidant.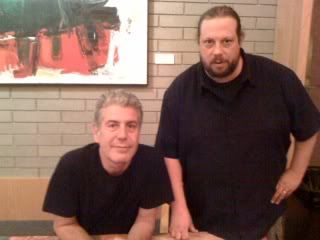 ---
6/22/10
If, on my last post, you would replace "bit Fellini's boompole" with "chomped Sofia Coppola's matte box," I would be much appreciative. Sorry for any inconvenience.
---
6/21/10
All of our ideas bit Fellini's boompole and we ended up not submitting anything to the film contest. Still had fun failing though.
---
6/18/10
Tonight is the beginning of the summer version of North by Northwest's 48 Hour Film Contest. Wish us luck!
---
6/14/10
Here's our "mind blowing" promo for the Summer 48 Hour Film Contest.
---
6/13/10
I explore the Great Salt Flats in northwest Utah.
---
6/9/10
I realize there are no thirteens in Las Vegas.
---
6/6/10
I'm baaaa-aaack...
---
5/24/10
I'm about to set out for parts unknown.
For the next two weeks, I'll be updating my Facebook but not OtherSpokane.com 'cause it's a hassle to do it from my iPhone.
---
5/20/10
Last night. Outside my living room window.
---
5/19/10
First, California boycotts Arizona. Yesterday, Arizona - whose power plants provides one fourth of Los Angeles' gluttonous electrical needs - threatened to pull the plug in retaliation. MAYBE THEY'LL DECLARE WAR ON EACH OTHER! I'm sorry, but this level of surreal potentiality excites me greatly.
---
5/17/10

Jesse checks out the
2010 Lilac City Tattoo convention.
I follow along with a camera.
---
5/16/10
Ledger is my favorite float in the Armed Forces Torchlight Parade.
---
5/15/10
Tonight is the Armed Forces Torchlight Parade, Spokane's annual glorification of militarism. The theme is - believe it or not - FREEDOM IS NOT FREE. This misleading, ridiculous slogan - which was first popularized while we were invading a non-threatening, sovereign country - is a slap in the face to Thomas Jefferson who wrote that people are "endowed by their Creator with certain unalienable rights, that among these are life, liberty and the pursuit of happiness." That means free.
---
5/14/10
The innovative band The Hold Steady was on The Colbert Report last night. I saw them at The Big Dipper last October. Scroll down to 10/22/09 to read my mini-review.
---
5/12/10
No kidding, just now, on KXLY local news: "Manhunt for a Mother."
---
5/6/10
Bankers of the world repent, or come up with a real good disguise.
Greece is the word.
_____
When KXLY local news reported on the Picasso painting - "Nude, Green Leaves and Bust" -that sold for a record 106.5 million, they actually put black bars over the "naughty parts."
---
5/4/10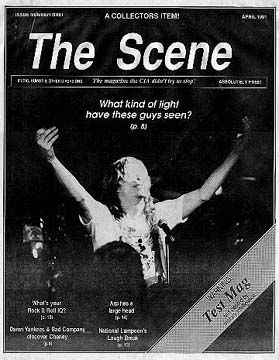 The band Black Happy will reunite in Spokane, Friday, August 6, at The Knitting Factory. The band graced the cover of issues #1 and #8 of The Scene Magazine in the early '90s. We should schedule a Scene reunion on Saturday for any non-deceased, non-incarcerated ex-Scene editors, writers and artists. Yes? No?
_____
Did you see the video of the kid getting tasered during the Phillies game? This is what we've become: tasers of children - which can and does kill people - for good ol' non-threatening, American rambunctiousness. Local newsreaders all made light of this, saying things like "Guess he won't be doing that again." Pathetic. Pathetic. Pathetic.
---
5/3/10
All it would take is a few altered traffic cones and tens of thousands of Bloomsday runners would tumble into the Spokane river like lemmings. I'm surprised nobody's thought of this before.
---
5/2/10
Spokane would be more tolerable today if you could get all 50,000 Bloomsdayers to dress up like zombies.
---
5/1/10
Happy May Day, comrades!
To celebrate this overlooked holiday, may I suggest two films about the wild man of philosophical theory: the eminent Slovenian philosopher Slavoj Zizek. "Zizek" explores his eccentric personality and esoteric work in general (much of it drifting far over my humble head). But in particular, I highly recommend "The Pervert's Guide to Cinema" - his interpretation of David Lynch, Hitchcock, the Marx brothers, and more, from a psychoanalytical, Marxist, pie-in-your-face perspective. A true intellectual maverick.
---
4/29/10
I'd believe the whole 2012 scenario if it was 10 or 12 years away.
---
4/26/10
This should scare the hell out of you. Yet another ridiculous report from KXLY news: Kids Go to Prison to Learn a Lesson.
_____
Here's an experiment I did yesterday with time lapse, fast motion and unruly editing.
---
4/25/10
Only a cook would see the irony in the fact that recipes for Puttanesca call for extra virgin olive oil.
---
4/24/10
I just watched "Naboer," (English title: Next Door) a Norwegian, erotically charged, psychological thriller by Pål Sletaune. The protagonist, John, becomes acquainted with his super hot neighbors who seem to know way too much about him. It becomes clear that he is victim to a twisted game. Maybe. "Naboer" received an over-18 rating (essentially an X), which has been issued to only four other films in the history of Norwegian cinema.
---
4/23/10
Am I unduly freaking out about this report from KXLY news? Read my comments at the bottom of the page.
---
4/22/10
You know, the thing that bugs me about Earth Day is this: We'll buy Earth a present made in some sweat shop in Indonesia, spew mega-carbon getting it to us, wrap it in paper with multi-images of Bugs Bunny planting a tree which will end up in a landfill, and ultimately Earth will end up re-gifting to Neptune or Pluto. Still, happy Earth Day. I guess.
---
4/21/10
The Balch-man is back! Check out the book from my friend and former Scene magazine collaborator, Darren Balch, rock photographer extraordinaire. Scrape up some cash; there's room on your coffee table.
---
4/19/10
Just watched a wonderful movie: Special (Specioprin Hydrochloride), about a humdrum dude who takes an experimental antidepressant and realizes he has "special powers." Some people might argue that this is not a great film because of some script problems, but it's not enough to deter this excellent story, good acting, and inspired filmmaking. An unknown Indy gem. This is why I love cinema.
---
4/16/10
Shots from The Great Tax Day Tea Party Party 2010: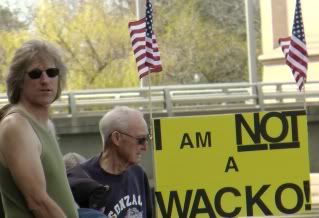 I might disagree. But I saw just as many "wackos" at the Anarchist march or the Cheney protest.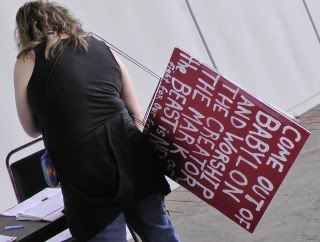 How can you not want to party with her?


"Plead my cause, O Lord, with them that strive with me:
fight against them that fight against me."




Itch.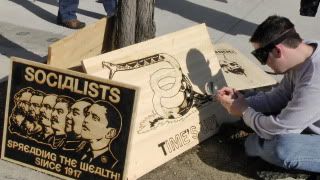 Evidence of Obama's job creation.
(More photos on my Facebook page.)
---
4/14/10
Re: Yesterday's photo.
Yes, it's an actual art exhibit in downtown Spokane. But someone scratched out "-erflies" at the end of "butt." The art team, "Boys Who Like Butterflies," is working with Lutheran Community Services, Odyssey Youth Center and Partners with Families and Children on this exhibit about gender and sexual violence.
So, that clears it up, right?
---
4/13/10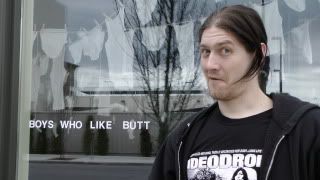 ---
4/12/10
Wow! Where did this guy come from? Check out this episode of The Dylan Ratigan Show on MSNBC. The banking scam explained. He essentially calls Alan Greenspan the world's biggest criminal. (I wonder how Ratigan gets along with co-worker, Andrea Michell, NBC's Chief Foreign Affairs Correspondent and wife of Alan Greenspan?)
_____
Later today I'm playing the part of "Man Reading Paper," for something Jesse's shooting. Sounds like yet another thing I'll have to beg him not to put online so to prevent future death threats.
---
4/11/10
Bizarre timeline:
August 2008: A top Russian general warns that U.S. missiles near Polish/Russian border "won't go unpunished."
January 2010: Poland agrees to deploy U.S. missile on Polish/Russian border.
April 2010: Polish plane crashes near Russian border, killing nearly 100 of Poland's elite politico, including the president and his wife, the army chief of staff, the navy chief commander, and heads of the air and land forces. Russian soldiers arrive at the scene minutes after the crash. Putin personally takes charge of the investigation.
April 2010: U.S./Russia sign treaty to cut nuclear weapons.
---
4/9/10
Just watched an amazing movie called "Funny Games," with Naomi Watts and Tim Roth. It seeks to challenge the way we look at violence in cinema. It's extremely violent; yet it's not. It's an excellent script; yet it's not. The acting is great; yet it's not. I really liked the movie, except that I hated it. I never want to see it again; yet I'm gonna watch it again right now. I'll let you know what I re-think. Or not.
---
4/8/10
dewD wrote:
Giant Fetus walks into a bar with a steering wheel in his pants. The bartender says, "Hey, Giant Fetus, why do you have a steering wheel in your pants?" and Giant Fetus says, "I don't know but it's driving me nuts."
_____
I returned:
Giant Fetus lives a long, happy life so he takes his wife to a fancy restaurant to celebrate. Next day he's telling his friend about how great it was: excellent food, phenomenal prices, wonderful service. Naturally his friend asks the name of this amazing restaurant.
"The name?," says Giant Fetus. "Ah... Um... Oh, dang. Okay, what's the name of that one flower, it's really pretty, smells really good, and has thorns on the stem?"
"A rose?" says his friend.
"Oh, yeah. Hey, Rose, what's the name of that restaurant?"
---
4/6/10
I heard from my old friend, dewD. Here's some background.
Warning: What follows is an actual letter.

Stiiiiiiiiiiiiiiik:

Long time no taco. Say, have you see Pan's Labyrinth? He left it around here somewhere. Seriously, a good film for you to add to your list of documentaries. Others should include The Piano, China Syndrome, The Late Great Planet Earth, and Debby Does Dallas (have you ever seen this film – perhaps one of the most referenced?). I hear they're combining the remake of DDD with No Country for Old Men. Seriously, I don't care what you say, Cormac McCarthy is a freaking genius – I am reading The Road at this point.

During fueled conversation amongst FaceBook chatters, I somehow was designated as the "guy who holds the candle for Obama," even though, as one chatter acknowledged, I "appear to be a libertarian kind of socialist". BTW, I am also a large reptile that eats dinosaurs. The take home message? I feel your pain. I have come to the conclusion that Obama is merely Richard Nixon without the Watergate mess. The guy is so damned moderate, he's almost an extreme moderate. I think the "Right" in the country have gone so far right they're over the edge. For example, would a good libertarian (or even a conservative) want legal or illegal wiretapping? For some reason the Right in this country have all become the right-wing nutjobs they snickered at all along the way. Eagerly they give up their rights and vote for tax breaks for the extremely wealthy, labeling any benefit for themselves or the rest of us as socialist. The everlasting battle for the hearts and minds of men, is the way Chomsky put that. It has everything to do with corporate media. Who says you can't fool most of the people all the time?

dewD

_____

I responded:

dewwwwwwwwD,

If eons were burritos it's been a Juarez Gut Bomb since I've seen you. How's it fan-danglin'? BTW, you forgot to include in your recommended documentary list: Bambi, all blacksploitation films and Saving Ryan's Privates (another classic).

I've been thinking a lot about Giant Fetus lately, so I wrote this story about him: Giant Fetus takes to chewing tobacco and eventually becomes the evil dictator of the world. As it turns out, these two guys are really pissed off and decide to kill him. They know that Giant Fetus drives through this one particular intersection every day at 1:30 pm, without fail. So the two guys finalize their plan, synch their watches, set up their assault rifles, rig the explosives, sharpen their machetes, etc., etc. Next day, 1:30 comes and no Giant Fetus. Then 2:15 - no Giant Fetus. 5:00 - no Giant Fetus. Finally the one guy turns to the other and says, "Gee, I hope he's okay."

Anyway, I told you that story to make this point about Obama: at least he's not some evil, dictatorial, tobacco/spit dripping Giant Fetus who's not on time.

Stik

[Editor's note: dewD did a comic for The Scene Magazine called Giant Fetus. Very psychedelic, yet astonishingly poignant.]
---
4/2/10
April Fools! The Kepler's Jazz Club sign was put up when a movie was shot at the Otis Hotel. Also, I didn't really have 1.2 trillion web hits last month. Sorry for the inconvenience.
---
4/1/10
Past history revealed at the now defunct Otis Hotel.
_____
Total hits for last month: 1, 230, 358, 593, 021
---
3/27/10
JJH's film picks:

Conversations with Other Women
Best example of what you can do with a solid script, 2 actors, a couple of digital cameras and a vision. The ending is amazing in its simplicity.

Good Dick
Another great example of a solid screenplay with a small crew, and an ending that changes the way you look at the whole film.
[Ed note: I finally saw this. And it was good. But I dare you to tell someone you like it.]

11:14
Good Pulp Fictiony type of film. Intertwining stories.

The Girlfriend Experience
A neat little surprise. Plus I've been watching the leading lady's porno for a few years now.
---
3/24/10
Locked Out
---
3/23/10
Systoom
---
3/21/10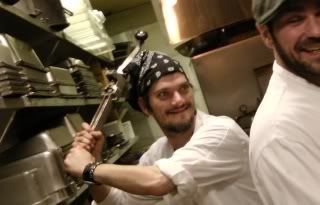 Killer Cook
---
3/17/10
Sorry. Had a little anger to work out.
---
3/16/10
I just watched Michael Moore's Capitalism: A Love Story - arguably his best documentary yet (with the possible exception of Bowling for Columbine).
While the libertarian in me forbids any leap onto some socialist party boat, the combo of cynic, survivalist and Bob Dylan in me sees that some big change is gonna come.
The monster that capitalism has become - with its subversion of democracy and common decency - is on its way out. Replacing it will be either whatever political/economic yearnings claw to the top of the angry masses; or, by the outright tyranny of the super rich.
The rich and powerful are united in their goal of taking EVERYTHING and turning us into their serfs. And they have the jump on us - as well as 95 % of the money. The rest of us (at least those not too sedated) are mired in relatively petty differences.
Common ground must be established between the so called right and left. So, how about this: at least we can agree that the international bankers who just robbed us of hundreds of billions (or is it trillions?) of dollars are in fact irredeemable souls, and only worthy of being dragged into the streets by their Gucci ties, beat senseless with rubber hoses and hanged upside down like Mussolini.
Work with me. It's a start.
---
3/10/10
Check out Jesse's new excursion into bizarre territory.
_____
The reason I took James out of the will:
Text from Me: "Hey, I feel snow coming."
James: "Gross. That's Mom's dog's name."
_____
Here's my take on the whole Toyota Mysterious Acceleration thing: The problem is not mechanical, it's spiritual - the cars are being possessed by ANCIENT JAPANESE SAMURAI DEMONS!!!
I'm simply asking you to consider it.
---
3/9/10
This Netflix thing has to stop.
For the past month I've done NOTHING except watch documentaries and movies. Which was fine, for the first three or four thousand hours. But now it's time to pay whatever's month rent is due, shovel out the kitchen, see if I still have a job, etc.
I saw:
Fitzcarraldo - Just one of the great works of art directed by German genius Werner Herzog. Film students who deny themselves this film and Herzog's earlier Aguirre: The Wrath of God are crippled among us enlightened ones who have suffered his bug bites and come out of his films wanting to kill and eat some slithering, disgusting reptile.
Burden of Dreams - A film about the making of Fitzcarraldo. Yeah, they really did pull that ship over the mountain. Yeah, Kinski really was a dick. (So much so that the actual native chief in the film offered Herzog to have Kinski killed for him.)
My Best Fiend: Klaus Kinski - Herzog's documentary about the maniacal actor Klaus Kinski, who played the lead role in Fitzcarraldo and Aguirre and other Herzog classics.
The Silence - Perhaps the greatest filmmaker of all times, this is Ingmar Bergman nearing the height of his creative genius. Following this film he did Winter Light and after that Persona, which is on my list of the 10 Greatest Films of All Time.
CSA: Confederate States of America - What if the South had won the Civil War? This mockumentary nearly gets mired in its own cleverness toward the end, but it's definitely worth watching.
Caligula - A ridiculous attempt by Penthouse Magazine editor Bob Guccione to merge porn and Hollywood. This Netflix version cuts out much of the hardcore porn shots which, sadly, was the only things that made this pig worth watch waddling.
Antichrist - One of those films you can't get out of your head. Willem Dafoe stars in this surreal bellyflop into the collective psychic goo. A film by the amazing Danish auteur Lars von Trier.
Inside Deep Throat - An in-your-face (sorry) documentary about the social implications of the film.
The Story of O - Oh...
Dead Snow - Nazi zombies. What more do you want?
Snuff - A mildly interesting documentary about snuff films.
Maid-Droid - If you thought the Japanese were weird before...
Sex and the Cinema - a documentary about...
The Pervert's Guide to Cinema - Slovenian philosopher and psychoanalyst Slavoj Zizek puts David Lynch, Charlie Chaplin, Groucho Marx and others on the couch in this heady, enlightening and entertaining essay.
Fausto 5.0 - A wonderful Spanish surprise. Never heard of it before.
M - Fritz Lang's first "talkie" from 1931. Peter Lorre as the cinema's first serial killer.
Examined Life - A collection of philosophers talking mostly over my head.
Solaris - The Russian sci-fi classic from the early 70s.
---
2/27/10
I just watched the documentary "Zoo." Later, I went for a ride out in the country where I encountered this group of horses and I noticed that this one was, like, totally checking me out. So I said, "Hay."
_____
This website set a new daily record last Monday: 1607 hits.
---
2/25/10
I can't believe everyone's freaking out about this woman who was killed by a KILLER whale. She got into the water with a KILLER whale - a KILLER whale who had killed before. Gee, what a surprise; she was killed by a killer KILLER whale.
---
2/19/10
I'd tell Tiger Woods to kiss my ass but I wouldn't want him to mess up his "therapy."
---
2/18/10
Yo, Joe. Why didn't you just write a song about flying a plane into the Austin, Texas, IRS offices instead of actually doing it? Huh? Think about it from your purgatorial perch. You would have gotten lots of attention. No doubt some gun ho, mid-level, governmental administrator would have made it his personal mission to rid society of your likes by abusing his power to make things even tougher on you than they already were, which would have undoubtedly went bad and been exposed by some equally gung ho, young Austin journalist - and you would have gotten even more attention. Having read your manifesto, it's obvious you were relatively sane and quite articulate. You would eventually have become a regular on the Alex Jones Show, and/or you could have written a book, or at least you could have sold survival packets or water purification tablets or some other dumb fucking thing on the side and you would have reached thousands, maybe hundreds of thousands of people who, like you, have a bona fide bitch about the IRS.
But, furthermore, your daughter would still have a father. Your wife would still have a husband. And you, Mr. Andrew Joseph Stack, would be 100 percent less dead.
Still, you selfish, misguided son-of-a-bitch, may you rest in peace...
---
2/10/10
D'oh! I just realized that Donald Sutherland played Homer Simpson in John Schlesinger's cinema classic "Day of the Locust." (And I shop at Boo Radleys to boot.)
---
2/6/10
I've long been saying that video games are one of the signs of the collapse of world culture and general sanity. Here's more proof.
_____
Arp and I built my super-computer last weekend, but he won't give it to me yet. He claims it's "a bit unstable." I told him that I'm also a bit unstable at times and that he shouldn't sweat it. He says there may be a fairly simple software fix (for the computer, not me). I'll keep you posted.
_____
Also, been pumpin' some iron...
---
2/1/10
Yes, I know it's obsessive, but I can't help it. It's a phase; bear with me.
More amazing films I've seen lately:
"C'est arrivé près de chez vous (Man Bites Dog)," by Remy Bevaux (1992). A black and white, French film which was strangely billed as a comedy. (Well, maybe a very, very dark comedy.) As a serial killer creatively applies his "art," a film crew records the exploits and eventually becomes intimately involved. Very entertaining, but with some truly horrifying scenes.
"Julien Donkey-Boy," (1999) by Harmony Korine. The surreal exploits of a schizophrenic teen and his ultra-dysfunctional family. This film is similar in style to Korine's amazing film, "Gummo," from two years prior. "Gummo," impressed me like no other movie since Fellini's "8 ½." (The sound you just heard was the collective gurgled chagrin of professional film critics.) Even if you don't like Korine's bizarre style, you should see "Julien Donkey-Boy" if only for the performance of legendary German director, Werner Herzog, as the abusive father.
"Quarantine," (2008). While shadowing L.A. firemen, a reporter and her cameraman get trapped in a quarantined apartment complex with a slew of rabies-infected zombies - while the camera rolls on. Okay, okay, it's yet another zombie flick. But this one rises above the fray in that the entire movie is seen through the lens of the entrapped cameraman.
_____
OtherSpokane.com total hits for January: 16,206
---
1/25/10
I just got NetFlix, so I've been watching A LOT of movies lately.
Here are the ones that really impressed me:
"Following," (1998) by Christopher Nolan. A beautiful, complex, black and white film about a man whose obsession with following random people draws him into a dangerous criminal underground. Few people have seen this film, maybe because it was overshadowed by Nolan's next movie, "Memento" (an even better film). Both projects are similar in their use of a non-linear timeline.
"The Brood," (1979) by David Cronenberg. Violent and grisly, but intelligent - one of his early horror films, and his first film using quality actors. This film is currently being remade by a different director.
"Inglourius Basterds," (2009) by Quentin Tarantino. A mad, ingenious, new kind of fairy tale by a mad genius/fairy tale character.
---
1/23/10
Conan's last show TOTALLY ROCKED LAST NIGHT!
_____
More Arp links. I think the boy has seriously lost it:
---
1/22/10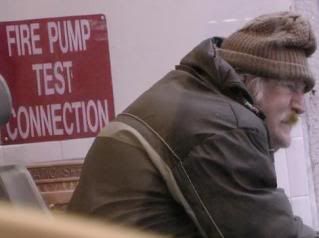 ---
1/17/10
Just watched three amazing films:
"La voie lactée (The Milky Way)" - by Luis Bunuel. (1969) His uber-original take on religion. I don't understand the charges of blasphemy against this film. The portrayal of Jesus is right on, as far as the gospels are concerned, and (smilingly) refreshing.
"Unser täglich Brot (Our Daily Bread)" by Nikolaus Geyrhalter. (2005) A dialogue-less documentary about modern food production. Amazing digital filmmaking. Who'd of believed that industrialized hog slaughtering could be a thing of beauty?
"Bruno" (2009) - It's possible that I damaged myself internally from laughing at the final scene.
_____
Here's the computer that Arp and I are building. (We don't actually have it yet - the parts are in the mail.) Any thoughts?
¶ GIGABYTE GA-X58A-UD5 ATX Intel Motherboard
¶ CORSAIR CMPSU-850TX 850W ATX12V 2.2 / EPS12V 2.91 SLI Ready CrossFire Ready Active PFC Power Supply
¶ Intel Core i7-920 2.66GHz LGA 1366 130W Quad-Core Processor
¶ CORSAIR XMS3 6GB (3 x 2GB) 240-Pin DDR3 SDRAM DDR3 1600 (PC3 12800) Triple Channel Kit Desktop Memory
¶ Western Digital Caviar Black WD1001FALS 1TB 7200 RPM 32MB Cache SATA 3.0Gb/s 3.5" Internal Hard Drive
¶ SAPPHIRE Radeon HD 5770 (Juniper XT) 100283L Video Card
¶ Microsoft Windows 7 Professional 64-bit 1-Pack for System Builders
---
1/15/10
My prediction regarding the late night talk show war: LETTERMAN WILL RETIRE! and will bring Conan in as the complementary butt cheek in his Worldwide Pants - pitting him chin to chin with Leno at 11:30.
---
1/13/10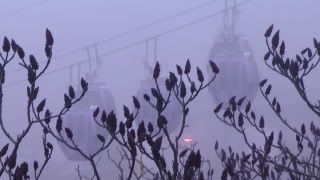 Early this morning.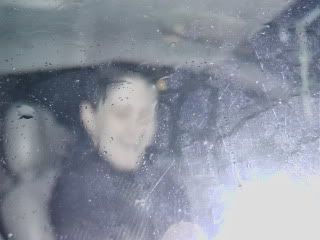 New Year's Eve (?)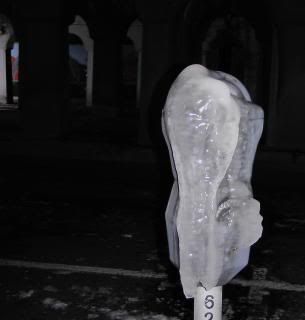 The last time it was really, really cold.
---
1/12/10
So, I asked my friend Arp Xigar to do some research into building a new computer for me. Revelation: Be careful what you say to a computer nerd. I need something to edit HD video, but Arp is considering the long term probability that I might need to someday travel back in time, or hack NORAD, or control hurricanes. Knowing I have the technical wherewithal of a salamander, here's some of the links he's sent me:
http://www.youtube.com/watch?v=m9MGreSRG0c
http://www.youtube.com/watch?v=mZezTOXxBAw
http://www.youtube.com/watch?v=LK_elZ0sxAE&feature=fvw
http://www.youtube.com/watch?v=vsw9wMikp_8
http://www.youtube.com/watch?v=OY15hOBM9do
http://www.youtube.com/watch?v=j1adBBwHMnU
http://www.youtube.com/watch?v=NnL0PFIcnN4
---
1/09/10
Here's North by Northwest's YouTube site of all entries to the 48 Hour Film Fest.
---
1/08/10
Here's something I shot a few weeks ago when I first got my camera. It's not HD, and I really didn't know what I was doing; and still, it's clearer than anything I shot with my other cameras.
---
1/05/10
---
1/03/10
We're preparing to shoot something very dark and very creepy. Most of the story takes place in Riverfront Park (the working title is "RiverDark Park") with a few scenes to be shot in a local coffee shop or tavern. If you've worked with us before and/or you want to be involved, get a hold of me or Jesse.
_____
(Shhh! I'm trying to get my friend, Arp Xigar, to build me a computer so I told him I'd publish his web recommendations. Just play along 'til I get my riggin'.)
Omniscience For Everyone,
Let's begin the New Year with an overwhelming appreciation of those that make our everyday lives a little more exciting... Here's a tune to get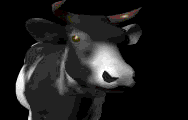 into your head Monday morning... And remember to be Joyous in your Industry; they are watching you and your productivity: Get 'er done! And as Friday comes around, how about a grateful indebtedness towards our benevolent overlords. Also, Stik Mann needs a new computer! Let's all help him build the greatest ENIAC we can! Punch cards and vacuum tubes are a must. Here's to the New Year!
Your Humble Servant, Arp Xigar
(Remember esteemed readers, sometimes a Xigar is just a Xigar.)
Click Here to go to Arp's CowFacts, Arp's collection of facts about cows.
---
1/02/10
Yeah, yeah, okay. Jeez. Here's the winners:
Best Picture - Project Greenman
Runner Up - Exposure
People's Choice - Prove It
Runner Up - Exposure
_____
Duuuh Department:
It's been brought to my attention that 0 plus 9 equals 9, not 10. That's right, this website - which was born at 11:59 pm on 12/31/99 in the midst of the Y2K scare - just celebrated its NINTH anniversary, not the TENTH. So, all that stuff I wrote earlier - forget about it until next year.
_____
Total hits to OtherSpokane.com on New Year's Day: 991
Total hits for December: 11,488
---
1/01/10
Happy New Year!
First, the bad news: The Spokane 48 Hour Film Fest's Best Film award went to someone who wasn't us. Similarly, the People's Choice award went to other non-us participants.
The good news is that it was nonetheless an AWESOME experience. There is nothing like the rush of hearing people enjoy and applaud your work. I was at the first showing and the City Hall auditorium was packed full. The line waiting to get into the second showing stretched up the stairway and into the street. Well over a thousand people must have seen the eight finalist films throughout the course of the evening.
A big tip of the official OtherSpokane artsy-fartsy director's beret goes to North by Northwest Productions for the expertise, time and expense that must have been required to make this extraordinary event possible.
This just in: Because of the popularity of this year's contest, there's going to be a SUMMER 48 Hour Film Fest. Sincerely and ominously we say with our best Arnold scowl, "We'll be baaack."
Don't stop now!
Go to 2009 archive
---
Please read the OtherSpokane DISCLAIMER


Stik Mann's OtherSpokane and all content within
Copyright © 2010, Steven J. St. George
(unless otherwise noted or as obvious as a Mexican at a Tea Party party).